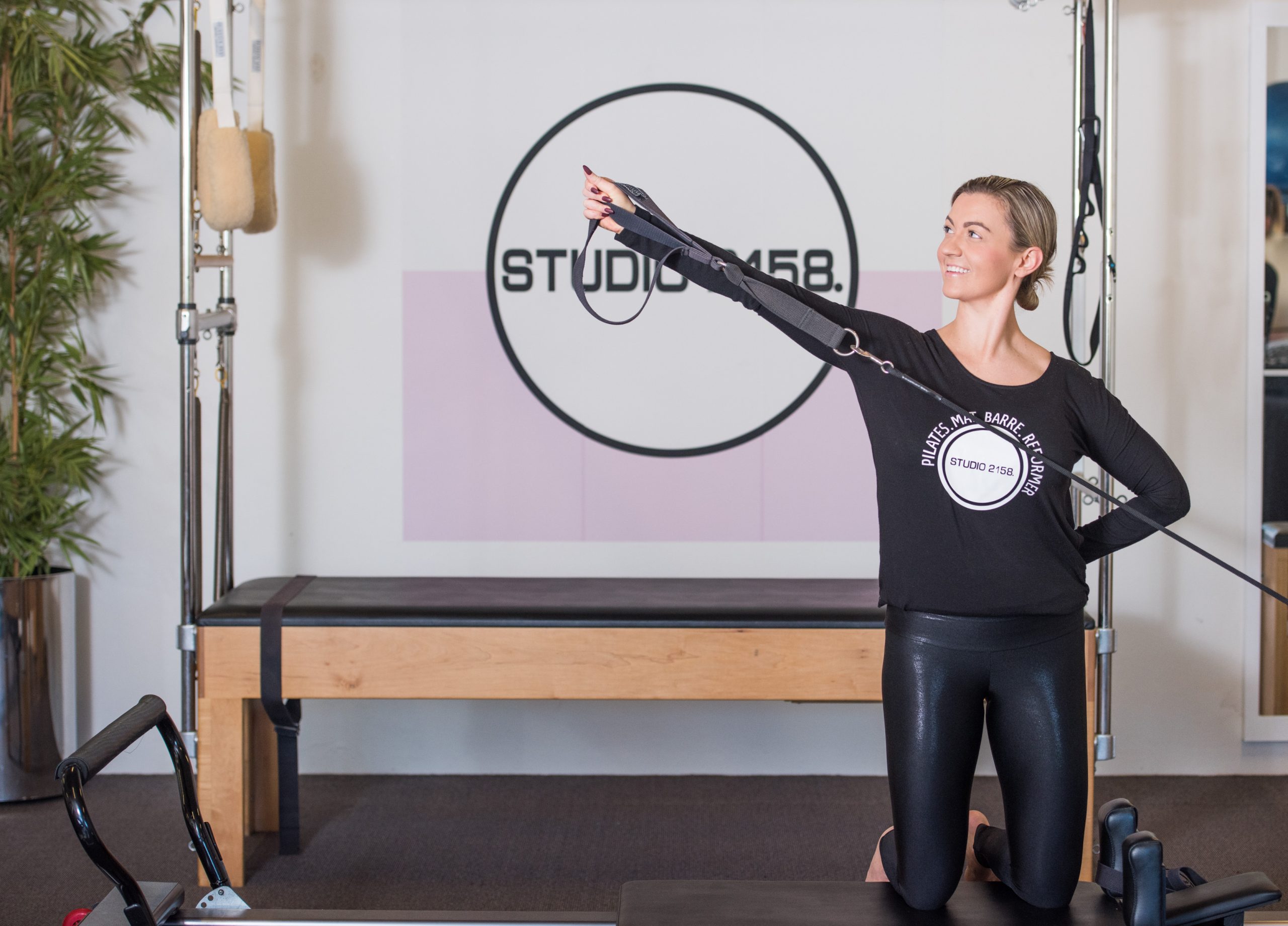 Founding Director Lucy Watts has been teaching in the movement, health and fitness industry for 15 years, so it was only natural that she wanted to share her love of movement by opening a Pilates studio of her own.
This boutique- style studio, is a one-of-a-kind located in the rural location of Dural, and has been fitted out for Pilates Equipment sessions, Matwork sessions, and specialises in creating tailored movement programs for their clients. Great for those needing rehabilitation from chronic pain, injury, anxiety or illness.
The studio prides itself on catering for all ages and fitness levels, and on a friendly "at-home feel", so you are comfortable and at ease, whilst learning new movement patterns and habits, that will transform your life for the better!
Studio 2158 welcomes all enquiries, and looks forward to leading you on your movement journey.
HERE ARE SOME TESTIMONIALS
FROM OUR AMAZING CLIENTS
My daughter and I just love Lucy's lesson , Lucy is the very patient and always maintains a high level of professionalism. We recommend Studio 2158 for everyone. - Yvette Mccredden

Have had nothing but the best treatment. Lucy has helped me with my back issues and I will never look back. - Katrina Pye

I am starting 2018 with a body & fitness transformation from Lucy & The Team at Studio 2158. If you are considering Pilates this is your haven; great team, very knowledgeable, lovely atmosphere, easy location & parking. The place to be in 2018! - Di hedges

Lucy and her team offer an outstanding service that is not only professional but incredibly personal. Each session was tailored to my individual needs and they have truly worked miracles. Thank you! - Natalie Arakelian

I cannot recommend Lucy enough. Lucy is FAR more than a Pilates instructor. She is incredibly talented and a world of knowledge in this industry. You will get the transformation that Pilates can give you when you work with her, but you will also get a mind, body and soul make over. - Alissa Buttiglieri

A really friendly and supportive environment, would absolutely recommend this studio. - Nikki Morris

I have enjoyed classes so much that I now have my daughter attend in the school holidays. I always learn something about my body, how to breathe properly, how to stretch myself for maximum benefit and general wellness techniques. Lucy is always explaining the benefits of the exercises that she has us do - Louise O'Rourke

Amazing knowledge! Goes above and beyond. Total transformation! - Marc Alfred

Thank you, Lucy for creating such a caring and friendly environment and for all your dedication to each moment of every class. I would undoubtedly recommend your studio to everyone. - Natali Kelava

An empowering experience! Lucy is happy to work with your chiropractor or physiotherapist to switch on your body. I highly recommend Studio 2158 for all levels of fitness and to feel great!! - Kylie Marshall

The difference is Lucy is so passionate about Pilates, cares about every single student. Now mentally and spiritually I am a much stronger person. - Mirko Misoni

Coming from a background of lifting heavy weights, the stress on my body was constant. Through Lucy & the team at Studio 2158, I've been able to strengthen my hip stability which in turn has improved my form. My week wouldn't be complete without a session at Studio 2158. Through Pilates I have learned a new awareness for my body movement and areas that I can strengthen. The community is welcoming, encouraging and friendly. I am so grateful for Lucy & The Team. Thankyou xxx - Dee Von Kauffmann

Joined this studio last year and have never looked back! Lucy and her team have been nothing short of amazing. Barre Attack with Nicole was exactly the cardio hit I was looking for and I cannot recommend it enough. As a mum of two boys with no fitness background Nicole has patiently worked with me and given my body and fitness levels a massive boost. Loving the difference it's made with my body and headspace in such a short amount of time! - Abigail Cabrera

Studio 2158, Lucy and Pilates does wonderful things to your mind, body and spirit. I had previously worked out in gyms and boot camps but never achieved the results that Pilates has done for me in 16 months – a smaller waist, better muscle tone and no neck and back pain any longer. - Donna Perry

Having heard about Pilates for some time, I was constantly curious about what Pilates could do for me, I saw Studio 2158 was liked by a friend on Facebook, so,I checked out the webpage and Facebook page and thought "let's give it a try". I started doing the Lucy's mat work class and was hooked from my very first class, it didn't matter that I really had no clue what I was doing that first week I was made to feel welcome from the moment I arrived, I have been going for about 8 months, and now try to go to 3 mat work classes a week. Lucy and her team give a huge amount of support and encouragement, giving clear instructions and reasons behind each of the movements, they have helped me to not only strengthen my body but I've learnt some very valuable stretching exercises, I have learnt to challenge my body and have been amazed at the things I can now do. The physical benefits have been great, but the thing I love the most is for that hour that I am there, I switch off from the world, no technology, no kids, no work, no husband, no stress, I concentrate for a whole hour solely on me, oh and my breathing !!! I'm so happy that I stumbled across Studio 2158 and if there is one thing I could suggest to you it would be: Allow yourself to switch off from the world for just one hour and focus solely on yourself at Studio 2158, and I guarantee you'll be hooked too. - Christine Thorley

Literally… you don't understand the revelation I just had….. I could feel my muscles working from underneath my legs. Like just walking up a simple stair case at home. To be able to notice that my muscles are activating differently is crazy. I literally thought pilates is all core. But you have honestly changed my body. I didn't realise it was not functioning properly until we have worked together. And I did the gym for such a long time and I never saw the results I wanted and I know why now!!! I knew I had lazy bum muscles from my cousin who is a Personal Trainer, explaining it but your knowledge and techniques is second to none. No personal trainer or gym class has given me the insight I have had in the maybe 6 months I have been coming to you. Thank you so much xx - Sarah

The first time I walked into Studio 2158 it was overwhelming. Meeting Lucy for the first time I felt positive vibes and I knew this was right for me. Before starting Pilates I had lower back pain which was unbearable to cope with. By working on the Pilates equipment and through various Matwork exercises Lucy was able to see the stress I had and the bad posture that comes along with everyday living and how it impacted my life. Weeks went on and months flew by and I can now say that I am a better person that I have ever been- more calm and positive. Your talent to pass to people's health is amazing. Pilates is now a part of my life that I cannot do without! I'd like to thank Lucy for everything she has done for me, for bringing the positive out in my life. Lucy you're a true friend for life and I cannot that you enough! - Carmen

I started at Studio 2158 a few months ago and haven't looked back. Looking for a Pilates studio that is not only passionate about what they do, presents challenging sessions and also has amazing knowledge about the body .. Is hard to find. Ive gained so much awareness about how my body moves and working muscles I didn't even know existed. Lifting weights is something I'm passionate about, but being hyper mobile my stability lacked and therefore lead me to injury. As I attend classes weekly, my body realigns and I feel centered. Lucy runs an amazing studio, big gratitude for her. The instructors at Studio 2158 are all different in style of teaching but each class I'm challenged mentally and physically. Pilates allows me to become strong where I am lacking, therefore giving my body a better foundation. It's not just a workout, I feel mentally prepared for the week after each class and my body/mind is definitely grateful. - Dee

In the past I struggled to find forms of exercise that excited and challenged me. It wasn't until four years ago and meeting Lucy, that my life was forever changed by Pilates. For me, Pilates has transformed how I see my body, I now focus on what my body can do, not what It can't. Pilates is not only about breathing and strengthening core muscles it is about being in touch with your body, both physically and mentally, and developing self belief. I cannot thank Lucy and her team enough for giving me the simple gift of an hour to truly feel confident and at peace. - Elyse Rabone